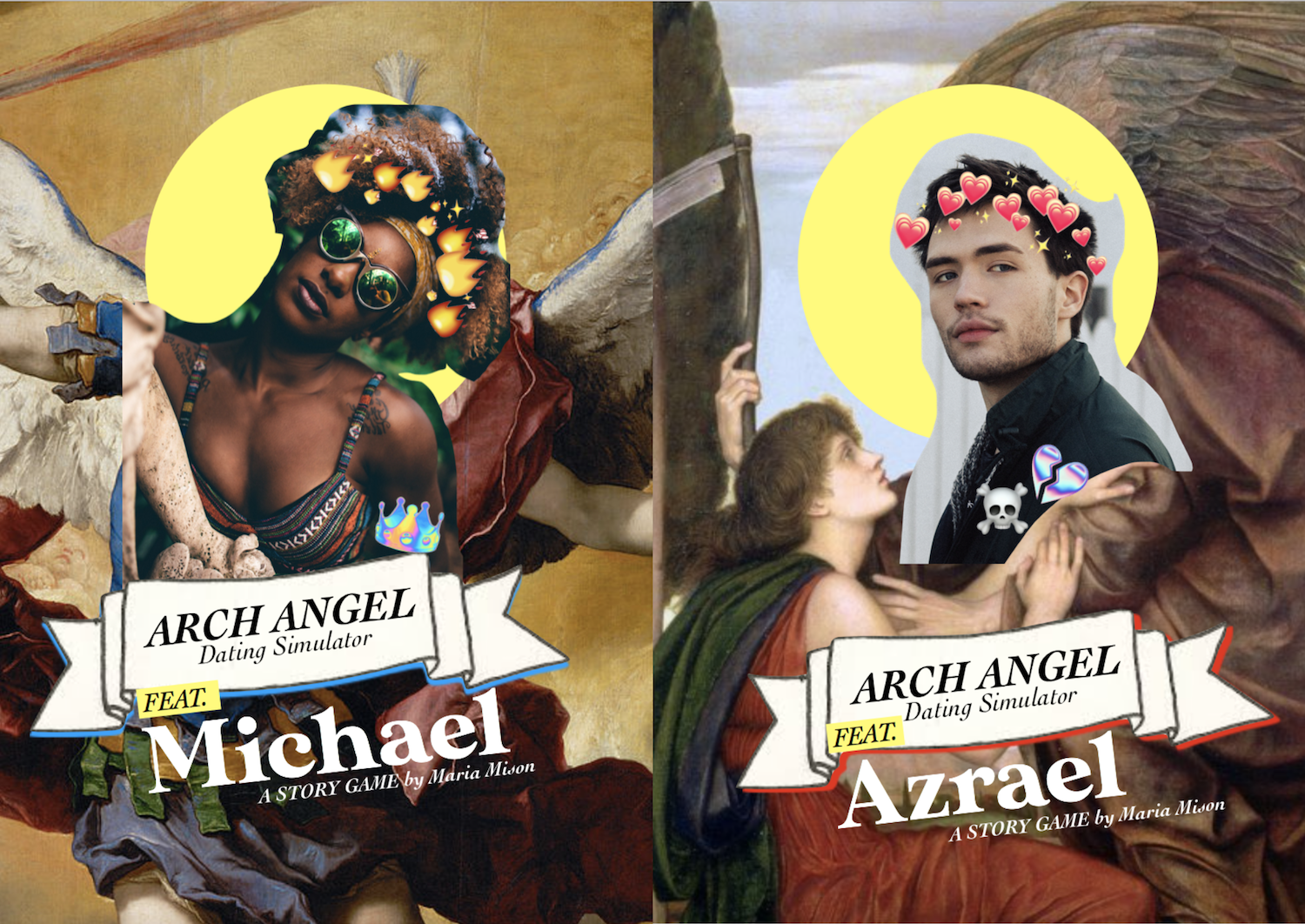 Arch Angel Dating Simulator
A downloadable dating game
Arch! Angel! Dating! Simulator! Need I say more??
Collaborative story telling game, with tarot/oracle/art cards used as a story telling mechanic.
If you need an online deck ASAP try any here:
http://www.tarotgoddess.com/tarot/oracle.html and just keep refreshing the one card draw to pick more cards.
Let me know how your dates with angels go :)

----
PS: the "book" file is zine ready. So basically just print odd pages, then print even pages on the back of those and you've got yourself A FRIGGIN AWESOME THING
—-
Hi I'm Maria and I enjoy the cross of participatory art, equitable play and collective narrative in TTRPG & LARP. All of which are political and catalysts for personal and collective change. It looks harmless, that's the point. Help make chaotic-righteous-hopeful spaces by supporting my patreon!
t: @mariamison
patreon: https://www.patreon.com/mariamison
Purchase
In order to download this dating game you must purchase it at or above the minimum price of $10 USD. You will get access to the following files:
ZINE covers (7 varations - all angels).pdf
49 MB
zine Archangel dating simulator.pdf
62 MB
AA ORACLE DECK.pdf
121 MB
Zine hard copy
Support this dating game at or above a special price point to receive something exclusive.
Community Copy
Each copy of Arch Angel Dating Simulator you buy helps someone else grab a free copy if their budget doesn't enable them to pay the listed price. If you're unable to budget for a copy of Arch Angel Dating Simulator priced as listed, please claim one of these free copies for the community.
Zine hard copy
Cover - Colored printed on double sided matte photo paper with collage
If you're not from asia or the states, I would have to charge extra for your shipping cost! In case I save from asia orders I'll carry it over to discounted copies for europe. If you want to avail of discount (aka compute shipping manually - email me at mariabumby@yahoo.com so I can give you a more accurate price)
There are 3 Michaels, 1 of any other angel, and no Raphael or Jophiel
These are fully colored inside except for Chamuel.
Send me Name, address and contact number for your novena card to be sent over
Comments
Log in with itch.io to leave a comment.
Arch Angel Dating Simulator is a one, two, or multiplayer trpg angel dating sim.
It's 14 pages, and a fairly big file, but it's got a clever layout and really solid writing.
Mechanically, there aren't a lot of hard rules, you just tell a story, but you can pull from a tarot deck if you need a prompt.
There is a *very* solid and distinct feeling to the game though, and if you like writing warm, quirky, humorous supernatural romance, this might be a great engine for writing prompts.
Also: there is a very strong romantic charge to each of the available angels. They all hit different themes / suitor types, and each one has a lot of room to tailor them to what you find most interesting, but I'd be willing to bet that everyone's going to like at least one.
Overall, I don't think I would have expected a tabletop dating sim to be this good at setting up romantic chemistry. It caught me quite off-guard, and if you're interested in being romanced by an angel, strong recommend. If you're not interested in being romanced by an angel, this is still a cool read, and kind of an excellent toolkit for setting up romance stories.
Minor Issues:
-Page 7, How We Meet, "Create your own YOUR Earthly Problems" this feels like a typo
Ah thanks for catching this and such a thoughtful review!!
I'm honestly surprised by how much I enjoyed this little adventure. Using tarot cards as writing prompts was something new to me, but it was quite the experience. I also really liked the different questions (many of them were very creative) and some questions+tarot card combinations hit scarily close to home - I can see why they're used in the fortune telling lol.
The relationship between city-slicker Li and the Angel of Nature Uriel started as a friendly rivalry that became something more. With Li feeling a lack of control of his own life and Uriel feeling lost in a world she was too scared to interact with closely, they helped each other grow - Uriel pushed Li out of his comfort zone and Li showed Uriel that people could always use some help.
All in all, I had a lot of fun doing this. Anyone that wants to experience an interesting love story I would very much recommend trying this out. Get ready for lots of open tabs on the meaning of different tarot cards though!
OMG! I wish i got to hear your story I'm so glad you enjoyed it <3 And I feel so deeply about characters helping each other grow. This comment makes me very soft thank you for leaving it.
This game is great fun! I really enjoyed using tarot cards as story guides, something I'd never done before. And the questions prompts were also really interesting in driving the story forward.
My human Nathaniel dated the Archangel Chamuel but unfortunately it was not meant to be. Nathaniel broke Chamuel's heart by falling into his old stubborn ways while Cham grew and learned what he wanted.
Definitely recommend a play for cute dates and a rich story!
Im usually terrified of itch comments but this means so much to me!!!! Thankyou!!!!!!!!!!!