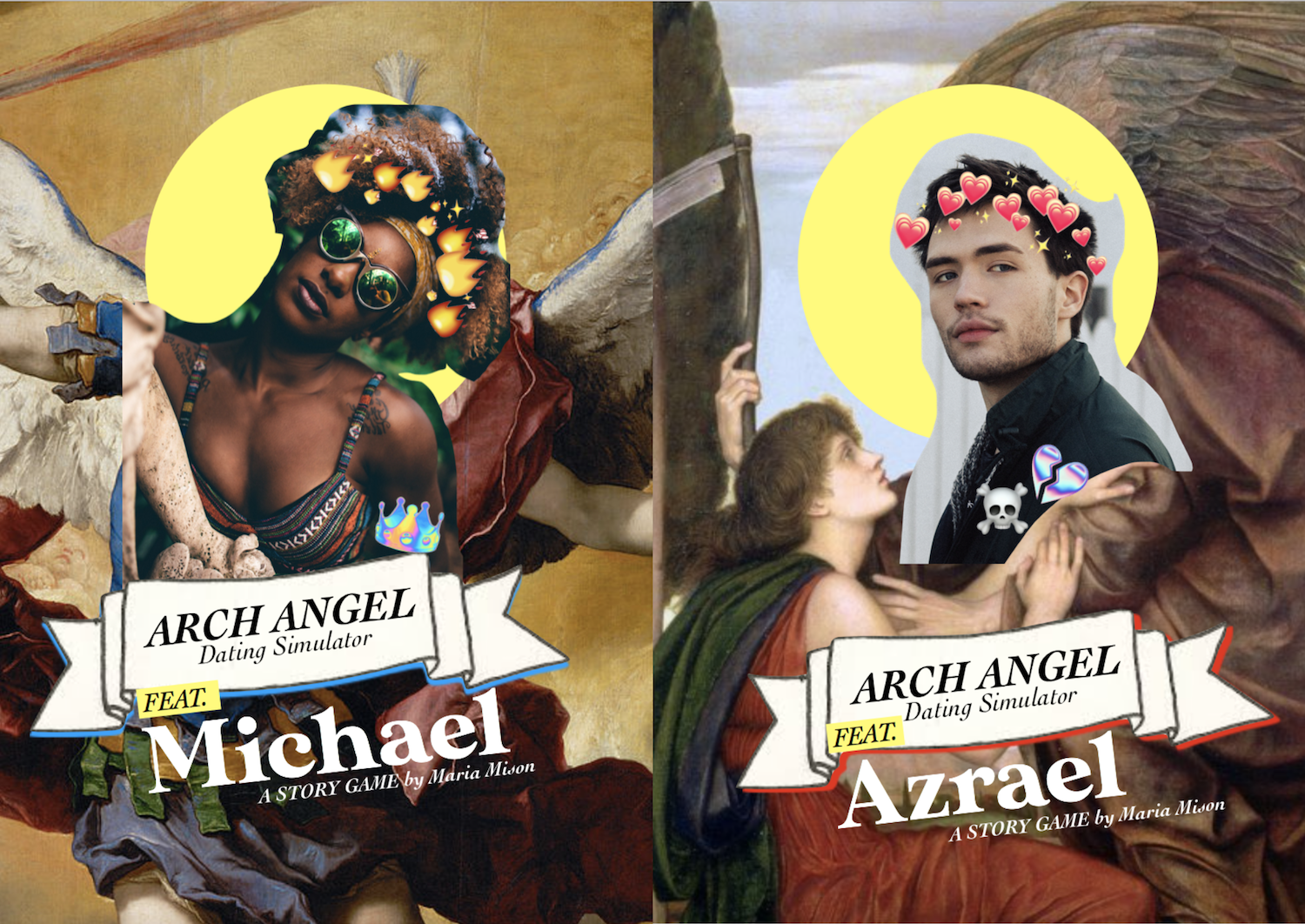 Arch Angel Dating Simulator
A downloadable dating game
Get this dating game and 68 more for $10.00 USD
View bundle
Arch! Angel! Dating! Simulator! Need I say more??
Collaborative story telling game, with tarot/oracle/art cards used as a story telling mechanic.
If you need an online deck ASAP try any here:
http://www.tarotgoddess.com/tarot/oracle.html and just keep refreshing the one card draw to pick more cards.
Let me know how your dates with angels go :)

----
PS: the "book" file is zine ready. So basically just print odd pages, then print even pages on the back of those and you've got yourself A FRIGGIN AWESOME THING
—-
Hi I'm Maria and I enjoy the cross of participatory art, equitable play and collective narrative in TTRPG & LARP. All of which are political and catalysts for personal and collective change. It looks harmless, that's the point. Help make chaotic-righteous-hopeful spaces by supporting my patreon!
t: @mariamison
patreon: https://www.patreon.com/mariamison
Purchase
Get this dating game and 68 more for $10.00 USD
View bundle
In order to download this dating game you must purchase it at or above the minimum price of $9 USD. You will get access to the following files:
Archangel dating simulator v1.pdf
57 MB
book Archangel dating simulator zine layout copy booklet.pdf
62 MB
ZINE covers (7 varations - all angels).pdf
49 MB
zine Archangel dating simulator.pdf
62 MB
Zine hard copy
Support this dating game at or above a special price point to receive something exclusive.
Community Copy
Each copy of Arch Angel Dating Simulator you buy helps someone else grab a free copy if their budget doesn't enable them to pay the listed price. If you're unable to budget for a copy of Arch Angel Dating Simulator priced as listed, please claim one of these free copies for the community.
Zine hard copy
Cover - Colored printed on double sided matte photo paper with collage
If you're not from asia or the states, I would have to charge extra for your shipping cost! In case I save from asia orders I'll carry it over to discounted copies for europe. If you want to avail of discount (aka compute shipping manually - email me at mariabumby@yahoo.com so I can give you a more accurate price)
There are 3 Michaels, 1 of any other angel, and no Raphael or Jophiel
These are fully colored inside except for Chamuel.
Send me Name, address and contact number for your novena card to be sent over